Used Boats:
26
Adverts Displaying:
1
-
10
Contessa 26 kept at local sailing club stood ashore for the Winter. Last survey was carried out in 2017 which concluded that she was in good condition but needed some TLC and cosmetics. In 2019, the engine was overhauled and new engine mounts were fitted. Summer 2020 the topsides have undergone refurbishment and a repaint... Every Contessa 26 carries it's own solid, dependable provenance. This example was built in 1968. modifications have been carried out on her to make her a useful day sailer : a new stack pack main sail. Head sail furling system. The water system has been removed...
read more
Year:
1968
Length:
7.92m
Location:
Essex UK
Price:
£5,450 Tax Exempt

View Details
30ft Gaff cutter with inboard engine. Her present owners, commissioned her design and build by the late Ted Spears of North Quay Marine, Conyer, Kent.2002. She is RCD design coded for category "B" Offshore. In 2012 she had an extensive refit and a full service carried by the original builders. She carries a Traditional Gaff Cutter rig with topsail, 28hp Beta Marine diesel engine, Western Red Cedar strip planked construction epoxy sheathed, inside and out. A long keel with a centreboard, straight stem and bowsprit ( which elevates up when on a restricted mooring.) She has...
read more
Year:
2002
Length:
11.8m
Location:
Kent UK
Price:
£47,500 Tax Paid

View Details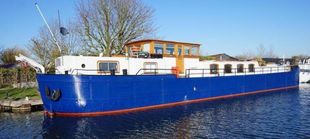 Francoise was built in Belgium in 1958. Traded on the European waterways. In 2007/8 she was shortened, rebuilt and converted to a luxury home afloat with new decks, a collapsible wheelhouse, new hatches and windows. Also installed in 2008 was a new engine/gearbox/python drive, hydraulic bow thruster, heating system, electrics, water tanks and many more modern upgrades. Barge was completely shot blasted back to bare steel and painted in 2pack epoxy paints. Her owners have established a residential mooring for her afloat all the while in the canal basin alongside the quay face. She offers ve...
read more
Year:
1958
Length:
29m
Location:
Essex UK
Price:
£390,000 Tax Exempt

View Details
All recommendations on the July 2020 survey report have been attended too. Refit completed. She is a very tidy example of type. Good sized day cabin/ wheelhouse. Open aft cockpit aft which could be used to create a little more accommodation "Outside In....." Bilge keels, Bermudan Ketch rig. A reconditioned Beta Marine engine recently installed, her with just 85 hours on its clock. Masthead Ketch LOA: 31.00 ft / 9.45 m LWL :27.99 ft / 8.53 m Beam:10.01 ft / 3.05 m Draft (max):4.00 ft / 1.22 m Displacement:15,695 lb / 7,119 kg...
read more
Year:
1984
Length:
31'
Location:
Essex UK
Price:
£20,000 Tax Exempt

View Details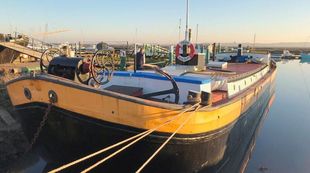 24m Dutch iron barge,1904 a Hasselter Aak Fully converted to a live aboard vessel 20 plus years ago. She offers a unique floating home with the ability to relocate whenever required. She maintains many of her original features comfortable She was in dry docked last September 2018, surveyed, metal thickness tested and re epoxy painted. Copy of survey report is available. The topsides have also been repainted. A considerable amount of metal work was carried out to the underwater surface. Anodes replaced and a new outlet valve for the sanitation services installed. Steel decks coach roof in...
read more
Year:
1904
Length:
24.10m
Location:
Essex UK
Price:
£160,000 Tax Exempt

View Details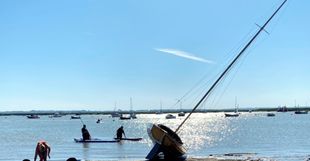 A Scandinavian J18, 3/4 decked open cruiser racer. Varnished Oak clinker planked hull, Bermudan Sloop. Shelter deck forward. Hull has been completely stripped back and re varnished for this season, stored ashore over Winter on her own cradle. New sails 2018. Built: 1944 Sail no; 68. Re launched June 2020...
read more
Year:
1944
Length:
6.10m
Location:
Essex UK
Price:
£7,950 Tax Exempt

View Details
Morgan Out Island 41 Motor Yacht ' from Catalina (USA). The Morgan Out Island 41 was one of the most popular Ocean cruising yachts ever produced in the USA with over 1000 being built between 1972 and 1982. Jo-Lene is well equipped for long term live aboard use and ideal for long term cruising. Her relatively shallow hull draft would get her through many of the European canals and inland waterways. A useful cruising motor yacht /long keel. Large centre cockpit with a fully fitted all surround awning(with removable panels and windows including a roof light, You can observe the top ...
read more
Year:
1982
Length:
41' 3"
Location:
Essex UK
Price:
£48,000 Tax Paid

View Details
'Harbinger' is a Manx Nobby converted to a gaff cutter, she was built some time before 1917, when the last Nobby was built. She underwent a major rebuild between 1975-1985 in Shoreham. Register of Historic Vessels no 3534. Comfortable accommodation....
read more
Year:
1917
Length:
50'
Location:
Hampshire UK
Price:
£25,000 Tax Paid

View Details
Dorothea, 27ft Gaff Yawl built along the lines of the West country Falmouth Quay Punts. 27ft 3ins. hull length 5.66 tons registered weight. Built and designed by W.E.Thomas of Falmouth in 1909. Carvel planked Pitch Pine on Oak. Part of her provenance was a previous owner being Mr Trafford Leigh-Mallory in the 1920's , he was in charge of the 12 group in the Battle of Britain and the UK and American Forces at the time of the Normandy Landings. She underwent a major restoration 12-14 years ago. some of the teak used in her restoration came form the Tower Bridge!......
read more
Year:
1909
Length:
37'
Location:
Essex UK
Price:
£45,000 Tax Exempt

View Details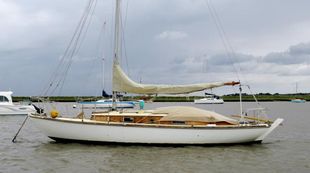 Folkboat built by Parhams and Son of Emsworth. Carvel wooden example of mahogany planking on oak frames. She has an extended coach roof afore her Aluminium mast, wooden boom. Marine ply sheathed and painted decks. A Yanmar 10, 9hp diesel engine. And for home comforts/ extended cruising there is a solid fuel stove on board. Her standing rigging was replaced in 2005 , she has two fore stays allowing quick change overs of sail. She has been in the same ownership 50 years. Kept sailing with the small fleet of other folkboats, one designs, Dragons and other little Classics on the River Alde...
read more
Year:
1960
Length:
25' 6"
Location:
Suffolk UK
Price:
£4,950 Tax Exempt

View Details